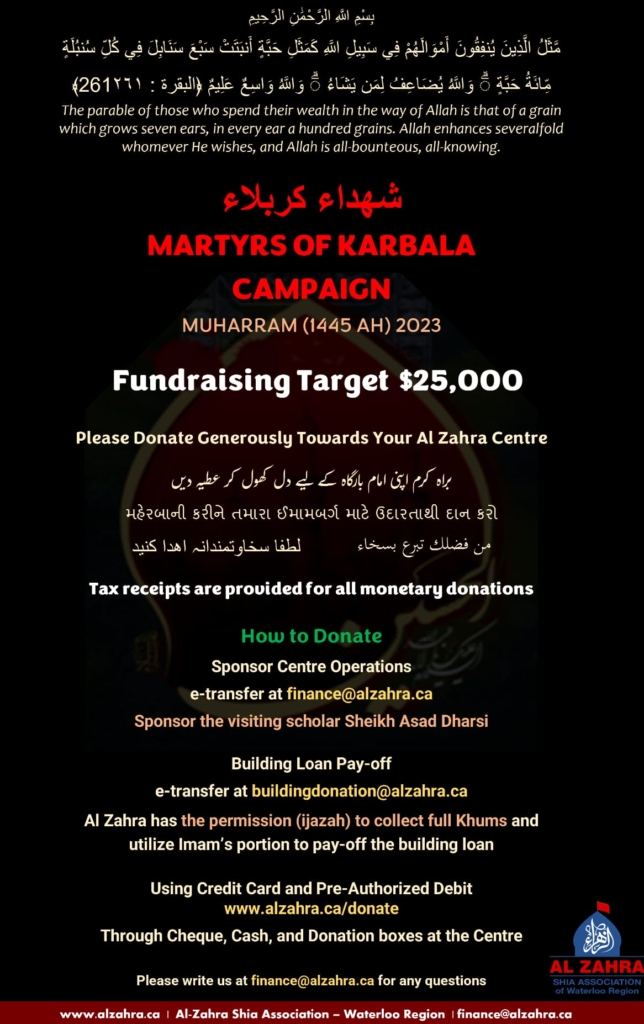 Dear Momineen and Al Zahra Community سلام علیکم
Praying this message finds you well.
As we are approaching Muharram 1445 AH, please stay tuned through emails and WhatsApp messages on daily programs to get together and give the purse to Bibi Syedda SA on the martyrdom of Imam Hussain AS and his companions شهد اء كربلاء.
Momineen,
Majalis and other programs can not be arranged without the financial support of the community, and similar to the previous years, we request you to donate generously to this Muharram and help your Al Zahra centre financially along with your valuable participation.
This Muharram, the Fundraising Target is $25,000, which will help greatly to manage the operations of your centre.
Kindly donate/contribute towards:
Hadiya and travel expenses for the visiting Aalim Shk. Asad Darsi.
Sponsor a daily Majlis.
Any specific cause.
Operating expenses, utilities.
Building funds to pay off the loan (~$250K).
Kitchen supplies such as tea, milk etc.
*** Please renew your 2023 membership if you haven't already. https://www.alzahra.ca/membership-benefits/ ***
JazakAllah, for your continuous support. لبيك يا حسين ع